Thomas J. Pence
Managing Director
The Knall/Cohen/Pence Group

These days, it seems like there is an abundance of cash circulating throughout the world. Milton Friedman coined the term "Helicopter Money" in 1969 when talking about the risks of excess monetary policy. Now, thirteen years after his passing we seem to be swimming in the stuff. It has come about in many of the ways that he predicted: starting with quantitative easing (QE) by the Bank of Japan in 2001 that was later emulated by the Federal Reserve, the European Central Bank, and the Bank of England following the 2008 financial crisis.
While we respectfully maintain that QE is not a policy tool that creates or prints money, central bankers that engage in the practice do so with the hope that the concomitant low interest rates that it produces will spur borrowing and investment, which will in turn stimulate GDP growth and inflation. Assuming you get inflation in asset prices and expansion in the size of the global economy, if overall debt stays constant, then you eventually eliminate the problem of excessive leverage. Of course, this sounds good in theory, but markets rarely follow theoretical models and forecasts.
What the past decade of QE demonstratively has produced is incredibly low interest rates that have pushed up asset prices in virtually every corner of the globe. This has created an unprecedented unlocking of value akin to the first gloriously warm days of spring stimulating flowers to sprout up and bloom everywhere. If you have been lucky enough to own stocks and bonds over the past decade, then chances are you're quite happy today. The same could be said for owners of real estate, farmland, rare jewelry, and artwork. And if you're a business owner - whether that business be growing, dying, profitable, unprofitable, or simply an idea on a piece of paper – you may have found that there are investors willing to buy you, merge with you, or inject your business with whatever level of cash you need.
What's going on? Is this all just from low rates? Or is it also from record low unemployment levels and consistently solid wage growth? Or could it be from demographic trends that result in baby boomers around the world finding themselves with little debt and excess cash from retirement savings, pension benefits, or proceeds from the sale of a home or business and looking for safe investments that can provide a stable retirement income?
With all of this cash looking for a safe place to invest, it underscores the great dilemma that so many investors are faced with today. Despite all of the demand for investment returns in the U.S. and across the globe, an increasing number of political, ideological, and economic counterforces are arrayed in such a way that seemingly seeks to deprive these investors from getting the returns that they desire. On the political front, there appears to be an increasingly popular bias against capitalism, free market dynamics, and shareholder primacy. In addition, there exists a renewed interest in corporate responsibility, increased taxation of the wealthy, and aspirational goals to eliminate private healthcare insurance and provide a free college education to most Americans. Diplomacy has been marked by increased unilateralism and appeasement of rising nationalist and populist sentiments through protectionism and the threat of a global trade war. All this threatens to eventually turn the tides on the economic front as we have already seen in decelerating job growth and capital spending, along with falling sentiment readings of consumers and businesses worldwide.
So how are the markets responding to all of this? Why is the S&P 500 once again approaching an all-time high? It's a worthwhile question to ponder and one which we suspect will be debated in the volatile months ahead. Notwithstanding the U.S. elections, impeachment risk, Brexit risk and global tensions with Iran, the elephant in the room seems to be whether or not a trade accord between the U.S. and China will be behind us or off the table once we reach the spring of 2020.
One of the reasons we suspect the S&P 500 is up ­­­­­21% year to date (as of 9/25/2019) and 45% since the election of 2016, despite all of the aforementioned counterforces, is because the U.S. remains in what we have described before as a golden era of innovation and change. In a recent lunch with one of my former colleagues, my friend reminded me of an axiom we learned long ago about growth investing. Namely when GDP is low or slowing, the market prefers growth stocks over value and cyclical stocks. Similarly when the pace of innovation is high and rising, growth stocks also outperform. This axiom helps put into context the tremendous run we have seen in growth stocks since the term "cloud computing" was first used and the incredible first iPhone was released between late-2006 and mid-2007. Whether you are a fan of QE or not, for most of the past decade it has failed to deliver a consistent series of quarters with GDP expanding above 3%. In this environment with so much cash looking for a place to invest and with so few alternatives within a weak global backdrop, growth stocks, growth companies, and private equity benefiting from the decade long cycle of technological change of innovation have been the biggest beneficiaries of incremental investment flows.
In the U.S. stock market specifically, while growth stocks have done well, it's not as if they have been riding a wave of irrational exuberance. In fact, net flows into the U.S. stock market have continued to show a generational aversion to stocks, ironically at a time when cash generation and cash margins are at 65 year highs (see chart).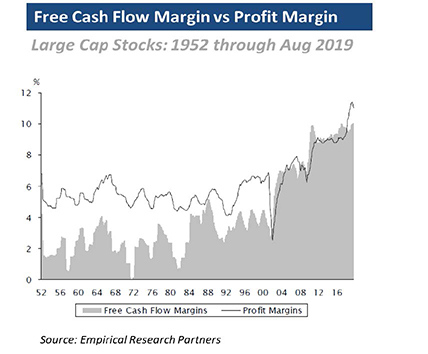 The chart makes it clear that publicly traded U.S. stocks today are not only high quality but also extremely profitable. Nevertheless, 2019 investment flows through mid-summer, as measured by Morningstar Research, showed that nearly $233 billion came out of U.S. actively managed equity funds while $222 billion went into passive index funds. Together, these net to a total outflow of $10.1 billion from U.S. stock funds. Large growth funds alone during this time suffered $26.5 billion of net outflows. Despite averaging a 23% return through July, we find it surprising that these funds in aggregate have still not been able to sustain positive inflows.
The Morningstar data makes clear that despite strong performance and record levels of profitability and cash flow generation, stocks still have yet to gain the kind of investor support that they enjoyed before the financial crisis of 2008. As a result, they continue to experience air pockets like we saw in December 2018 as the markets became over-stressed about the risks of stalling global GDP, lower than hoped-for inflation, and the growing risk of deflation. These worries manifested themselves once again in August when a confluence of fears surrounding China trade talks collapsing, inflation falling, and bond yields heading towards zero caused a 6% selloff in stocks and a flight to the perceived safety of U.S. Treasury bonds, with the 10-year note reaching 1.45% at its low point. During this selloff, the free cash flow yield of the S&P 500 reached 4.4%, approximately a full 3% premium to the 10-year Treasury yield. This yield differential is comparable to levels reached during the financial crisis, the European debt crisis, and during the capital flight out of China in mid-2016. According to Mike Goldstein of Empirical Research Partners, it appears that "the fearful [have] been grudgingly subsidizing the optimists."
During all this time, while the attractiveness of stocks by historical standards has not been making headlines, what has been catching a lot of press is the shifting sentiment against corporate profits, corporate behavior (buybacks, attention to environmental and social issues), corporate governance, and the ranking of shareholder interests in management decision making. In the 1970s, the Corporate Social Responsibility (CSR) movement became a hot topic and caused many companies to reset mission and philosophy statements to define their role to their various stakeholders which included shareholders, employees, customers, and the broader community in which they operate. To date, we could argue that many of the companies that were most outspoken about their CSR commitment (Coca-Cola, Procter & Gamble, Marriott, Walt Disney, and Cummins, to name a few) are still committed to an equal consideration of all their stakeholders. Nevertheless, in August the Business Roundtable led by chairman Jamie Dimon of JPMorgan felt compelled to revise its "Statement on the Purpose of a Corporation" to specifically include their belief that companies exist to benefit customers, employees, suppliers, and communities, not just shareholders. This revised statement was signed by 181 CEOs and was an attempt to "update a modern standard of corporate responsibility." We are left wondering why this statement is necessary now, when most of the companies in the Business Roundtable likely covered this in their 1970s declarations.
Our sense is that there is more than meets the eye here. The rising divisiveness in the U.S. political theater over issues such as income inequality, corporate tax rates, corporate buybacks, overseas outsourcing, increased use of automation, and executive compensation have become the targets of populist movements on both the left and the right of our political spectrum. Our concern is that some of the proposals being aired to address these challenges could significantly increase the cost of capital and equity risk premiums for public companies. One such proposal, the Accountable Capitalism Act, would force companies valued over $1 billion to submit to increased government oversight regarding how they spend their cash, when they can pay dividends, and how much they should allocate to wages. Should such a proposal become law, we fear that in a worst-case scenario the stage could be set for a generational compression of stock market P/E multiples. Or, as The Wall Street Journal described it earlier this month, such an arrangement could "devastate the income generating capacity of every major company in America and decimate their market value in the process."
While it is clear to us that there are a meaningful number of offenders failing to live up to the prior CSR standards while endorsing the new Business Roundtable standards (perhaps ironically this would include JPMorgan who is leading the Saudi Aramco IPO), we note that most of these companies are newer and didn't exist at the time of the original CSR movement. Oddly, the ones making many of the headlines are tech companies that grew so rapidly that they didn't focus as much upon issues like community impact, corporate governance, executive compensation, and employee welfare. In fact, some of these newcomers went as far as thumbing their noses at many of these issues over the past few years.
Speaking of tech, we would be remiss if we didn't talk about the great reckoning underway as companies cross over from the private market world, where growth at any cost is the mandate, to the public arena where growth at a reasonable cost is the imperative. It has been a Rubicon moment for many of these companies, particularly the biggest of them (known as unicorns) who deferred entering the public markets for as long as possible. Notably, two of the largest of these unicorns are presently down 30% and 40%, respectively, from their IPO price. As of this writing, yet another is embroiled in an internal conflict between the board and its recently ousted CEO due to the turmoil that resulted when they learned that the public markets estimated the company's valuation nearly 60% below their last private equity round. Clearly, the smokescreen afforded by the private markets was a much more accommodative environment for these companies than the transparency and accountability demanded by the public markets. To this we can only say "vive les marchés" and assume that over time the public markets will motivate these unicorns and other newcomers to make the adjustments necessary to join the ranks of the responsible corporations of today's Business Roundtable.
So with our belief and faith in the discernment of public markets unshaken, we remain committed to quality stocks that can grow through the current environment of uncertainty. Our strategy going forward will be to stick to our quality discipline, keep some powder dry, and brace ourselves for a typical round of October volatility while keeping our fingers crossed for a U.S.-China trade agreement that could serve as the catalyst for a resurgence of cyclical growth in the global economy. In short, we remain bullish on stocks and view any future volatility as an opportunity.
Please reach out to us with any questions you may have or perspectives you would like to share. Our opinions are constantly evolving and our goal, as always, is to help all of our clients make decisions that will help them work toward their objectives.
Notes
The Standard & Poor's 500 Index is a capitalization-weighted index that is generally considered representative of the U.S. large capitalization market. Past performance is no guarantee of future results.