December 2021
In a year principally defined by irrationality, it's a challenge to look into 2022 in a disciplined and sober fashion. But decades of experience in the markets are useless if we don't know when to change our minds. "Transitory" was the macroeconomic word of 2021, and as we look into 2022, it's critical to determine which of the radical changes we've all witnessed are here to stay. This time last year we quoted Paul Graham: "when experts are wrong, it's because they are experts on prior versions of the world." The same holds as we look into 2022.
The year 2021 will long be remembered by market historians as the year in which we attempted to restart a stalled economy by priming it with over $6.6 trillion in demand-inducing fiscal stimulus (over 25% of GDP). But that was before we'd ascertained if all the pandemic bottlenecks were cleared. An unprecedented experiment to be sure. At the same time, the Federal Reserve (Fed) was doing its part, injecting $6.2 trillion in liquidity since the start of the pandemic. This combination of direct fiscal stimulus along with the direct and indirect effect of lower interest rates and quantitative easing made it difficult to figure out where the various torrents of money were flowing to and from.
What's now clear is that much of it went into spending on consumer goods (cars, boats, RVs, homes, appliances, and meme stocks) and very little was spent on services (restaurants, air travel, movie theatres, or concerts). We've witnessed a bizarre tension between consumers with a sudden wealth of time and money and companies that have fewer employees on hand to supply their needs. We had assumed that the robust U.S. labor market would be met with a gleeful re-entry by many sidelined workers. That turned out to be wishful thinking on our part. Even when most of the enhanced unemployment benefits ended in August, there was still a significant reticence to go back to work. This was exacerbated by structural, mobility, or childcare issues that prevented many from making a smooth return. This created a significant supply-side constraint on many companies and further exacerbated supply chain bottlenecks that were disrupting the flow of raw materials and finished goods. In the process, we all learned that this marvelously interconnected global economy simply did not lend itself well to being abruptly turned off and on again. The result has been production disruptions, slower delivery times, and widespread price increases on many essential goods and services.
Inflation
That brings us to 2021's central debate: inflation. It is clear from recent CPI and PPI data that inflation is making its way through many facets of the economy. What is not clear is whether it will be with us for the remainder of this expansion. There are some (perhaps Jerome Powell) who hold out hope that these inflationary forces will abate once all companies can re-enter the competitive fray, waging a fair fight with equal and sufficient access to labor, raw materials, logistical services, and sufficient stocks of inventory.
Many inflation bulls (who are growing in number and prominence) believe that we are in the midst of a regime change; reversing the disinflationary period that has existed since globalization began in the late 90s. Those in this camp argue that excessive, and accelerating, "money printing" by the Fed since 2008 has been coupled with increasing U.S. protectionism resulting in a re-shoring of manufacturing back into the U.S. from Asia. The logic of this line of thinking is that this will squeeze margins on U.S. producers at a time when the ESG movement is increasing the cost of fossil fuel inputs and requiring massive capex to retrofit facilities for environmental compliance. Lastly, they point to the rising wages in the U.S. brought about by an under-supplied labor force as evidence of a trend beginning in corporate America to share a larger portion of their profits with labor.
Is this transitory? Our view on inflation is that it is simply too early to call. But since it's our job to make a guess here, our preliminary view is that the underpinnings of the case for inflation seem suspect. It is clear that the Fed sees the situation as more concerning, and must find a way to tap the brakes without snuffing out the recovery. Contrary to the popular metaphor, we do not see the actions of the Fed as "printing money." Certainly, since the start of the pandemic, there was a huge injection of liquidity into the economy to offset the dramatic drop-off in business activity. But since the beginning of 2021, we have seen the growth rate in M2 drop precipitously as the economy has moved back toward normalization. Thus, contrary to any view that there remains excessive amounts of free money sloshing around the global economy; both M2 and velocity have been recoiling through most of the year (Exhibit 1).

Exhibit 1

At the same time, we have already passed the peak of many of the commodity prices that ran up with this temporary surge in M2. This suggests to us that as the effects of excess stimulus continue to wane, so will the effects that have created abnormally high demand at a time when the economy and labor market had yet to be fully brought back online. The one exception we see is in energy, particularly fossil fuels. While many investors are being forced to completely divest from the sector, we see the road to full carbon neutrality as being a long one that will require years of investment and technological development. In the interim, we believe companies involved in the production and distribution of natural gas will likely provide the necessary bridge fuel to reaching these lofty but worthy goals.
China Crackdown
A regulatory crackdown on the Chinese consumer internet saw a staggering $1.5 trillion of market cap lost between the start of the year and August. It's clear the Chinese Communist Party (CCP) is pivoting its economy back from the digital world to the physical world. And, as China's middle class comes of age, it's clearly important for Xi to address both perceived consumer exploitation and inequality. After months of consecutive and unexpected authoritative proclamations, there was an exodus from most of China's U.S.-listed internet, gaming, and educational stocks. This ran contrary to the CCP's past portrayal of itself as superior long-range planners and its reputation for methodical and deliberate communication of its intentions. The market viewed this tone change quite negatively. We unfortunately were not immune to this.
Is this period of regulatory uncertainty transient? We think so. Most of the companies affected have made the appropriate penance to party leadership, and they will learn to adapt to the new rules going forward. Some of the largest players in the Chinese internet space are simply too powerful with massive vertical integration throughout the entire economy.
Speculative Mania
At the start of the year, we noted that investors would have virtually limitless demand for new narratives of wealth decentralization. But we could never have anticipated the sheer scale of the meme-stock craze, the crypto explosion, or the special purpose acquisition companies (SPAC) tsunami. The number of SPACs coming public in Q1 alone exceeded the total annual number of new listings in any year since the start of the millennium.
Traditional investment channels served up their own robust opportunity set as the issuance of new deal flow in real estate, private equity, and venture capital set new records. The mood throughout the year seemed to be that everything was working, so why not try anything.
Could this also be "transitory?" In one sense, it doesn't matter: political upheaval and macro headlines on one side, and speculative mania on the other has distracted from so many exciting opportunities. We see compelling investments in industries such as healthcare, cloud-based software, security, automation, alternative energy, and blockchain technologies (just to name a few).
There were over 1,000 IPOs in 2021. Even if you discount the 500 SPACs, that compares to 480 IPOs in 2020 and an average of 210 over the prior 20 years. Over 100 of these new issues were technology companies, which suggests that the march toward full digitization of businesses large and small continues to exhibit powerful momentum. It may also suggest that with low rates, valuations were high enough to bring many of these companies out of their private market refuges. Such a large class of new market entrants usually serves as a good precursor to innovation and change ahead. Many of these companies will likely become household names in the next three to five years. That is where much of our focus lies.
The one unresolved issue hanging over 2022 is the potential rationalization of the valuations for high growth stocks. Today the average enterprise value to sales multiple for software as a service companies stands at 13.6x, still far above the 8.8x median of 2018.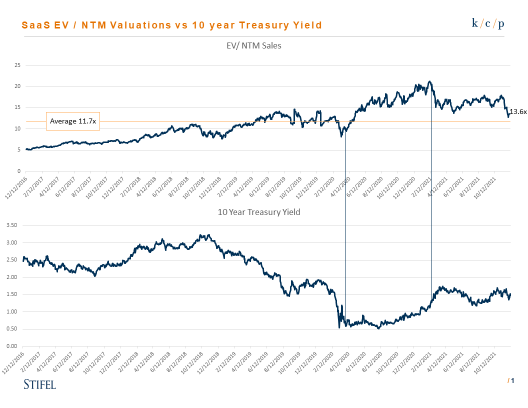 Source: FactSet
This leaves us wondering about the prospects for further multiple compression for 2022 in the highest growth tech companies that (from exhibit 2) appear to clearly have an inverse relationship to rates. Even with strong fundamentals and growth outlooks, we wonder how to rationalize a cloud-based provider of back-office software trading at 40x sales and sporting a market cap of $25 billion. It will be interesting to see how all highly valued assets react as the Fed applies its blunt tool of higher rates and tapering into 2022.
2022 Outlook
As we move forward into 2022, we anticipate the forces of inflation to gradually decelerate. As the global economy comes back online, many of the supply bottlenecks that caused the 2021 price spikes will likely be behind us. After next summer, it seems likely that if anyone were to still be earning an abnormal return from pricing their products or services at a premium, then the vast amount of capital in the world looking for a decent return would quickly move in to exploit this.
Between now and then, we suspect that the Fed will step in to do their part, raising rates gradually to snuff out some of the demand excesses as the economy returns to full potential. Then it will be the job of the private sector to take over providing the capital. For the banks to function in this role will require a positively-sloped yield curve which would require the 10-year Treasury to normalize somewhere back above 2%. After that, we still see the U.S. and most of the developed world far too engorged with debt to allow rates to move much higher. Lacy Hunt's well-articulated application of the law of diminishing returns will be at play here. The recent increase in the debt ceiling by Congress is simply a green light to continue moving the U.S.'s debt to gross domestic product (GDP) ratio in the wrong direction. From the current elevated levels, it will be difficult for us to borrow our way to sustainably higher GDP.
Positioning for all of this will test the mettle of the best portfolio managers. Our approach at The KCP Group will be to continue to barbell our client portfolios where appropriate. As always, we will maintain a high exposure to quality companies generating strong profit margins and free cash flow while making room for emerging growth companies in the digital economy. We also continue to invest in cyclical companies in the consumer and commercial services space that still have yet to complete their full recovery cycle from the pandemic (See exhibit 3).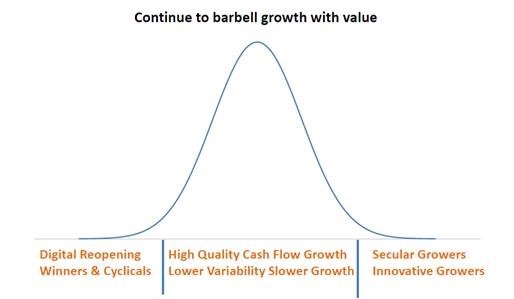 Exhibit 3
We will also remain vigilant to any overshoot on multiple compression on some of the higher growth names. Markets always seem to run too far in one direction and the current move toward inflation-oriented trades in commodity and industrial stocks will likely prove to be an example of this.
As we approach year-end, it appears that most of our equity strategies will fall short of their respective benchmarks. Much of the benchmark outperformance occurred in highly cyclical sectors that benefitted from the rapid recovery such as retailers, homebuilders, truckers, steel producers, and REITs. Our best performance was in strategies with more cyclical exposure. Strategies with lower exposure to cyclical companies fell further behind. However, as many of our clients know, our cycle-agnostic growth strategy seeks to build portfolios of good businesses that can outperform over the long term, making our portfolios less likely to participate in big up and down markets. Since many of our core holdings still produced solid returns during the year, we think that over the longer term, our commitment to staying the course will continue to prove out as the right strategy for our clients.
On that note, know that more than anything, we place the highest value upon earning and retaining your trust and confidence. We look forward to continue doing that in the year ahead and we wish all of you the happiest of holidays and a great start to 2022!
Tom Pence
Managing Director
The KCP Group