Here's a quick piece combining some thoughts on the recent themes of diversification, concentration, and timing.
The aim is to help with one of investing and business' most important questions.
"The Big Question"
[5 minute read]
"All I want to know is where I'm going to die, so I never go there"- Charlie Munger.
Back in 2016, Warren Buffett started buying shares in Apple. As of early 2021, it comprised over 40% of Berkshire's entire portfolio, and they've made nearly $100 billion on the position. That's more than either company was worth 20 years ago. There's a compelling case to be made that it's been one of the best investments of Buffett's career and even one of the best public investments ever. Hilariously, in Showtime's enjoyably silly series Billions, fictional hedge fund founder Bobby Axelrod berates one of his analysts for pitching Apple to their team meeting in…. January 2016.
It's the simplicity and concentration in Buffett's Apple position that's most interesting: that such a famous investor could allow a single stock to become such a large part of Berkshire's portfolio. But then, as we've discussed a lot, the highest returns are increasingly clustered in the tails. This trend has only been getting more extreme. It's an investing Rorschach test: some people look at the tail distribution and think they can pick the monster winners. Others look at it and see the need to index. Both can be right, skill is the difference.
But the key decision that needs to be made, irrespective of where you start, is when to sell. If a small number of stocks are responsible for all the gains, a small percentage of your portfolio is probably going to drive all of the outperformance. But most winners usually don't stay winners forever.
Recall the 2019 working paper that came to the astonishing conclusion that professional investors sell stocks worse than randomly. They essentially sell positions that are up a lot or down a lot. To hold Apple since 1990, you had to be able to handle a dozen sell-offs of 25% or more, including two sell-offs of 80%. You would need "Diamond Hands" indeed. Even worse; the "disposition effect" means that investors tend to take profits more than they cut losses. They cut the flowers and water the weeds.
"When to sell" is therefore one of the hardest decisions an individual can make. Yet the research shows it often receives the least attention.
The chart below of sources of wealth distribution across net worth shows that the very richest people are incredibly concentrated in their wealth. As you move up the wealth spectrum, more and more wealth is concentrated in illiquid business interests. And what's interesting is that it gets even more extreme the further up you go into the global mega-billionaires.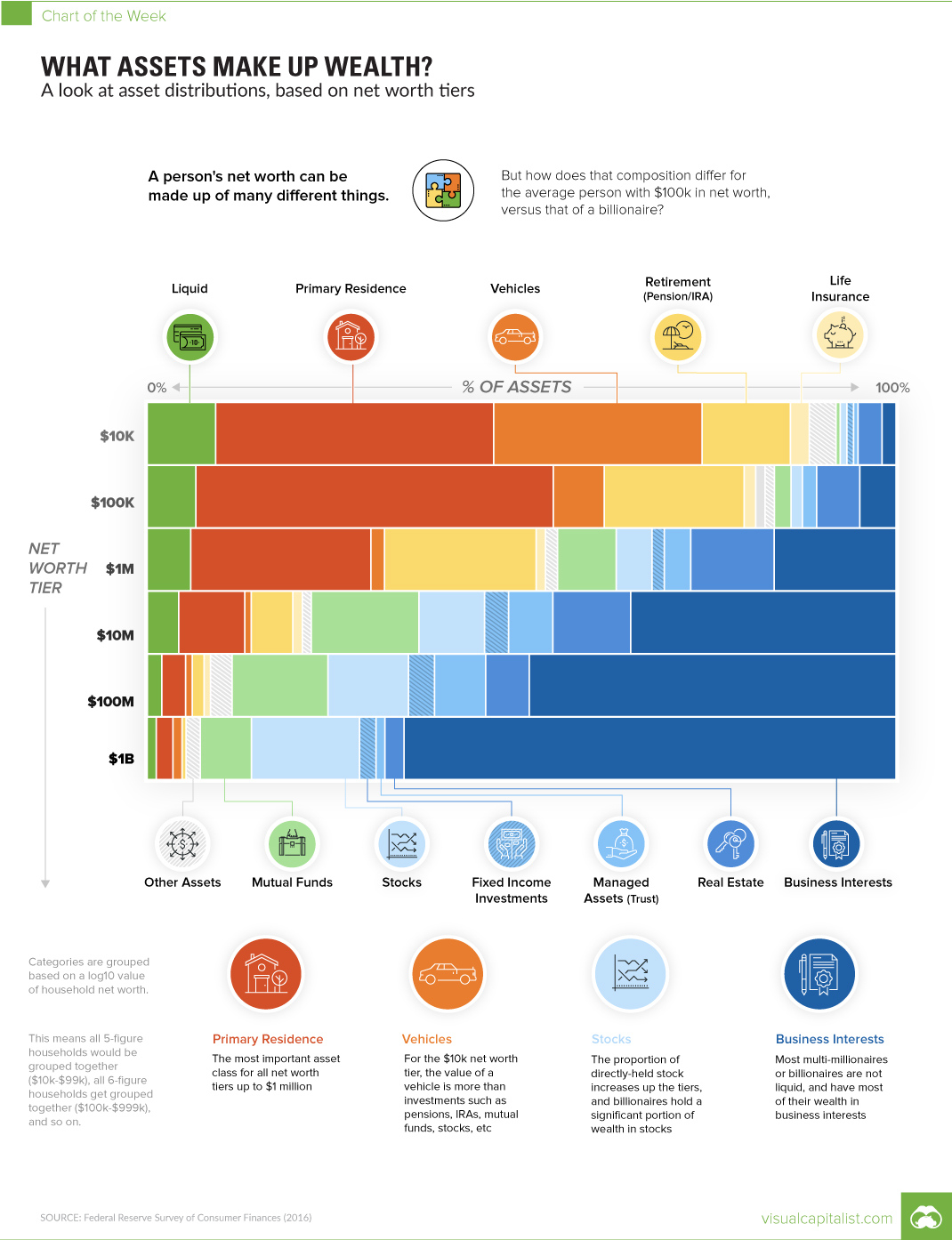 On the Forbes 2021 Rich List, a record 1,975 billionaires globally were "self-made," or 72% of the list. It's a marked change from the 2001 list, when 49% of the total 565 billionaires were self-made. Forbes uses the term "self-made" as a contrast to "inherited" and "inherited & growing." The top 20 is overwhelmingly business founders.
This also makes total sense: in a tail-driven world, those concentrated into the tails, whether by luck or judgement, will see spectacular gains. This year's list saw notable newcomers from crypto, SPACs, and traditional IPOs.
So… when do you fold 'em?
The truthful but slightly unsatisfying conclusion is probably that each individual case is different. You can't have effective generic answers universally applicable to specific investments.
But, aside from liquidity and income needs, here are some of the basic things the best investors [in my opinion] have looked for when reassessing a concentrated position:
A material change in your original investment thesis
A deterioration in the quality or focus of management
A loss of competitive advantage
Technological obsolescence
The latter two are getting particularly vital to watch. J.P. Morgan also recently updated their superb "agony and ecstasy" study of what causes long-term business failures. As they've consistently maintained- most of these 11 shocks are exogenous to management's control.
Commodity price risks that cannot be hedged away
Government policy.
On government action, deregulation has proven to be just as disruptive as re-regulation, particularly as it relates to boom–bust cycles in telecommunications, utilities, and broker-dealers
Foreign competitors whose market share is magnified by government subsidies and FX manipulation. China's exchange rate management and subsidies to its auto, steel, solar, paper, and glass companies are primary examples
Intellectual property infringement by domestic or foreign firms
The impact of patent trolls, estimated to cost U.S. businesses upwards of $20 billion per year
Changes in U.S. or foreign government tariff or trade policy
Fraud by non-executive employees, which according to SEC investigations account for ~30% of all instances; or fraud by employees or management in companies that you acquire, or which acquire you
Technological innovation that effectively provides consumers with enough information to bypass intermediaries and distributors
A shift in buying power to the firms' customers resulting from consolidation
Unconstrained expansion by competitors, leading to a collapse in pricing power
When to sell is perhaps the biggest question in wealth and investing, so I'm disappointed, but not surprised, it doesn't lend itself to pithy conclusions. People have the potential to get really wealthy through concentration and long-term holding periods. That's how compounding works. Buffett himself says his preferred holding period is "forever." But his own trailing outperformance against the S&P 500 has been dwindling over the last 15 years. The pace of disruption is accelerating.
What's evident from all the studies I've read is that the key variable (surprise!) is attention. Unsuccessful people pay less attention to their own behavioural biases, the selling process itself, and fundamental changes in a business. It requires wise counsel and focus. As Andrew Carnegie said:
"The way to become rich is to put all your eggs in one basket and watch that basket."
Other interesting reading:
Read. The Agony and the Ecstasy (March 2021) by J.P. Morgan.
Why read. Superb update to their recent studies on survivorship and business failure.
Have a great weekend!
Past performance is not indicative of future results.
The Standard & Poor's 500 Index is a capitalization-weighted index that is generally considered representative of the U.S. large capitalization market.