What if we're not paying enough attention to one of the most valuable assets we have?
I wrote a longer piece "21 Useful Ideas, 1 Big One" last weekend, so this piece is much shorter.
I also wanted to flag an excellent interview with Stan Druckenmiller on the current market environment in case you missed it.

"Permanent Loss"
[5 minute read]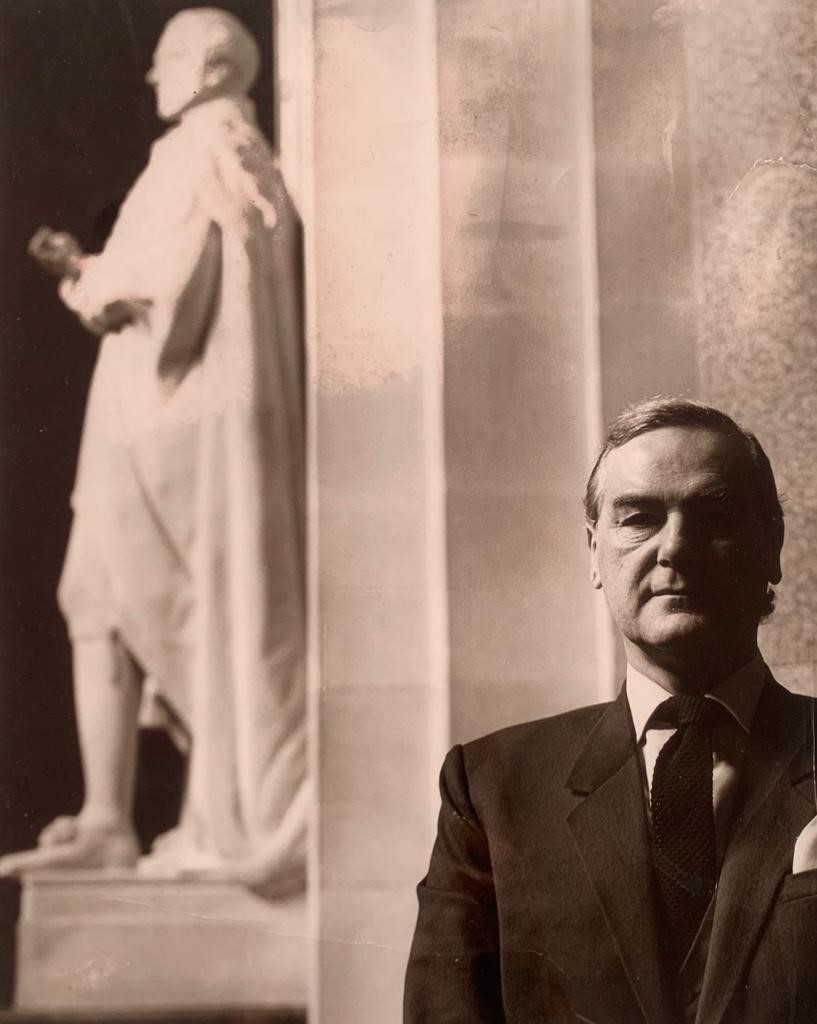 Sir John Morgan (1929-2012)
Tomorrow is Father's Day. This coming Friday, June 24, will be the tenth anniversary of my dad's death. John Morgan was born in London in 1929, in relatively modest circumstances. However he lived a life rich with the kind of exotic adventures no longer possible in our technologically-flattened world.
Through a combination of merit and circumstance he found himself ringside for a great deal of Twentieth Century history. His work with the U.K. Foreign Office took him all over the world, where he crossed paths with de Gaulle, Mao, Eisenhower, and most post-war British Prime Ministers. He was Khrushchev and Bulganin's interpreter. When he lived in Moscow, he once tackled a Russian gunman in the British embassy. He was an usher at Churchill's funeral. In communist China, he once accidentally took a photograph of a barracks and was wrongly imprisoned for being a spy. He rode horses across the Mongolian plains, and got frostbitten in a -55C Ulaanbaatar. He played a small but significant role in the anti-communist Solidarity movement in Poland. In the last decade of his career, he served as British Ambassador to South Korea, Poland, and Mexico. A gifted linguist, he spoke nine languages fluently. Perhaps his most impressive intellectual feat was learning Mandarin, in Russian, because he couldn't find an English-speaking Chinese teacher in Moscow.
In 1990, the boy from Walthamstow was knighted by The Queen, and became Sir John Morgan.
He died in 2012, at the age of eighty three. Neither of my children will ever know their grandfather, and my own memories of him are growing steadily fuzzier.
But my sisters are dramatically more prescient than me. So we're lucky enough to have over one hundred and fifty pages of enthralling memoirs dictated by dad himself. I read them again to prepare this article.
We're used to the entirety of human knowledge being a couple of clicks away. So the idea that we will permanently lose information of priceless value when our relatives die is pretty jarring. Although we're all abstractly aware of death, too few of us take the concrete steps to preserve our stories. In not wanting to confront our own mortality, we avoid doing something that could ensure we'll be remembered after we're gone. I know this because I have been characteristically hypocritical on exactly this topic.
In August of last year I was blessed to appear on Jim O'Shaughnessy's podcast Infinite Loops. He asks all of his guests what they would do if they were emperor of the world for the day. One of my responses was for us all to record our parents' memories. And yet, weeks after the episode was aired to thousands of people, it took one of my sisters (again) to cajole me into actually interviewing my mother for her own memories. My sister and I did so over Zoom over several weeks this year. It was a wonderful experience for the three of us (she reads these articles – hi mum, love you!).
So what?
In the course of our work at The KCP Group, we work with a great number of people who have built incredibly impressive and meaningful things. Many of them are now approaching generational transitions. We all know the clichés about how quickly subsequent generations can squander wealth and lose sight of core family values.
Mike Boyd runs the Business of Family podcast, where he interviews parents and advisors to talk about ways to preserve material and moral inheritances. He pointed me toward a study from Emory University where researchers developed a scale involving twenty questions that measured children's knowledge about their family history (below). The results showed that the more that children knew about their families, the higher their own self-esteem and sense of control over their lives. A researcher from the study wrote:
"Hearing these stories gave the children a sense of their history and a strong intergenerational self. Even if they were only nine, their identity stretched back 100 years, giving them connection, strength, and resilience."
My dad endured significant hardship, especially during the Blitz in World War II. Not only was food scarce due to rationing, he regularly experienced death and destruction first-hand. He was strafed by a German bomber walking home from school and later caught in the blasts of first a V1, then a V2 rocket. His own father also served as a marksman in the trenches in World War I; one of the worst hells humanity has ever created.
My dad was also kind and generous. His highest priority was spending a significant part of his modest savings on privately educating his children. Perhaps he hoped we would avoid the bizarre stigma attached to the self-made in class-obsessed English culture.
Stories are dramatically more powerful and memorable than facts. Hearing my dad's gripping adventures will be infinitely more effective in transmitting values to my children than some abstracted "family mission statement." I hope to live up to his legacy through the values I preserve.
So. A suggestion.
Stop reading. Close this page. E-mail or call your parents/children. Set up family interviews in person. Or get a professional to interview you. Get the memories down, you don't know when or how you might lose them. Forever.


Related reading and listening.
Listen. What the dying teach the living- Frank Ostaseski (1 hour 32 minute listen).
Why listen. In keeping with the somber tone, this Long Now podcast from 2017 is fantastic. Frank Ostaseski is an American Buddhist who runs the Zen Hospice Project in San Francisco. His remarkable book The Five Invitations motivated me to volunteer for a few months in hospice.




Unrelated Reading.
Watch/listen. Stan Druckenmiller with John Collison at Ira Sohn (1 hour 7 minute watch/listen).

Why watch: There are two markets and investment related interviews getting a lot of buzz right now. The first is Patrick O'Shaughnessy with Aswath Damodaran. The second is this interview at the Ira Sohn conference with the legendary Stan Druckenmiller. Some highlights:

"This is my 45th consecutive year as a Chief Investment Officer. In 45 years I've never seen a constellation, or frankly studied one, where there's no historical analogue. Right now I probably have more humility in terms of my views going forward than I've ever had."
"We've never had a soft landing when inflation has gone above 4%..."Once inflation has gone over 5% it hasn't been tamed without a recession."
"Once above 5% it has never come down unless fed funds have gotten above CPI."
"My best guess is that we're six months into a bear market. For those tactically trading, it's possible the first leg of that has ended. But I think it's highly, highly probable that the bear market has a ways to run."
[This material is the opinion of Stan Druckenmiller and does not necessarily represent the viewpoints of Stifel, Nicolaus & Company, Incorporated, which is not affiliated with Stan Druckenmiller. No one can predict the markets with any certainty. Investing involves risks, including the possible loss of principal, and investors should consider their personal circumstances carefully before investing.]


Happy Father's Day!
Tom