Last Friday Tom Pence hosted an excellent interview with Harvard Economist, Megan Greene, on inflation and the global macro outlook. Here are a few headline takeaways and an update on Tom's investment outlook.
Megan Greene Commentary.
Inflation:
Thinks it's primarily been caused by supply disruptions. The Federal Reserve (Fed) and other central banks can't actually do that much to alleviate that.
Does the Fed care about the equity market? Not really, but it cares about systemic contagion that would be more visible in the credit markets.
A big difference both historically and for the U.S. relative to other countries is in the relative tightness in the labor market, which shows signs of abating moderately as the labor force participation rate slowly ticks up.
What's been causing labor tightness?
As of the last survey (in November 2021), it seems a significant number of the causes are related to COVID (care needs, anxiety, etc.). There are also 2 under-discussed aspects that mean we might not get back to pre-pandemic levels soon:
1. Long COVID. The U.S. doesn't have great data, but the UK does. If we extrapolate from that, 5% of the population might have long COVID, and half of those have it so badly that they can't work. That's a significant part of the workforce, especially with an added care burden.
2. The other possible reason is anxiety and depression, which is currently running at 3x the level of pre-pandemic. For example, 86% of GenZ quitters say they did so due to mental health. No quick fix for that.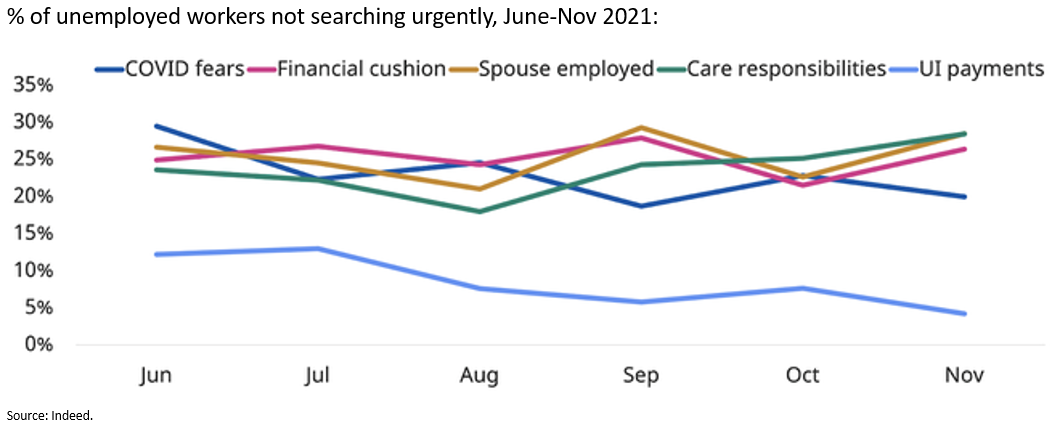 But the savings cushion is rapidly eroding. The bottom half of households are now largely out of money, with the lowest quartile burning through savings in March.
What happens after the temporary factors around inflation alleviate? Pre-pandemic we saw low worker power, high market concentration, and technological innovation. That's unlikely to secularly reverse.
The big drivers in inflation are different across developed markets. In Europe it's primarily energy and food. But the USA is seeing all kinds of different goods and services inflation.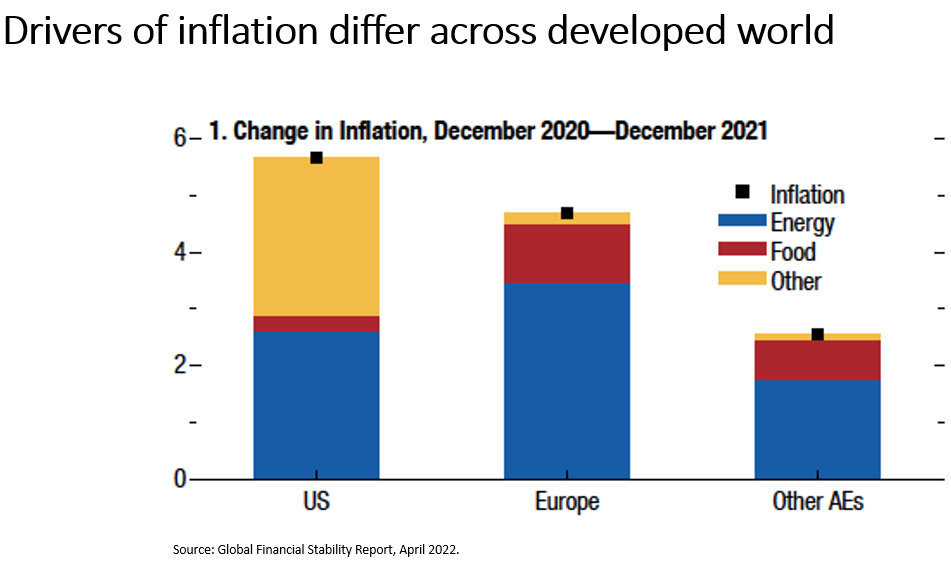 Goods inflation has seen a multi-decade upward trend-break, essentially people buying hard goods during the pandemic. That's already unwinding as the pandemic is moving endemic.
Services is 5x the weight in inflation basket. Housing is the biggest part of services inflation, but higher rents come through with a huge lag.
The reason why wage inflation was higher in the U.S. than other regions was that more workers were laid off or left their jobs, which enabled a renegotiation when they rejoined the labor force.
The fiscal stimulus impact is largely behind us, having been much more of a factor until the end of Q1 of last year. In fact, the U.S. faces a significant fiscal drag going forward; it's the 2nd largest retrenchment in U.S. history on fiscal impulse.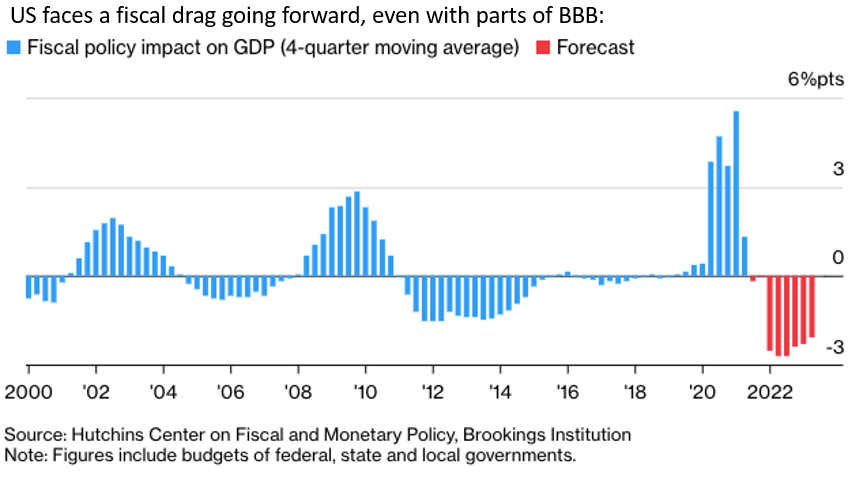 Where could she be wrong?
1. Deglobalization accelerates. Obviously it's inflationary, but she doesn't see it showing up in any of her metrics right now. If it does, it's going to take a long time.
2. Green transition- pricing in carbon will push prices up across the board. Europe seems to be serious about this, the U.S. less so, and nobody will likely hit their net zero targets.
Other questions:
The EU is on verge of oil embargo with more teeth than she expected, as it's targeting shippers and insurance. For the Iranian embargo, targeting insurers was a key trigger for stopping oil exports. This will push U.S./Europe energy prices up, making a Eurozone recession more likely.
No U.S. recession is likely in the next 12 months, but possibly after. The labor market is too strong, and unemployment is a key factor in her recession forecasts.
China is slowing massively, some of which was intended, but the Chinese Communist Party overdid it. They have now decided to prioritize short-term growth to prevent unemployment and avoid social unrest. In the meantime, they still want to take moral hazard out of real estate and prevent an FAI (Fixed Asset Investments) bubble, achieve common prosperity and cut CO2 emissions. She thinks Chinese growth slows to 4% this year (lower than consensus). Their Zero COVID policy is a huge risk. Xi has made it a central achievement of his regime, so it likely remains a cornerstone policy until at least the Congress in November. The elderly population vaccination rate is incredibly low (in the 50% range). And that's with a less effective Sinovac, and trying to reverse the messaging on foreign vaccines has been tricky.
Emerging Markets (EM) and Eurozone periphery are likely in significant trouble. The European Central Bank used deflation to justify quantitative easing, they have no suitable tools to address a blowout in peripheral spreads.
With the Fed hiking aggressively and much of EM retrenching fiscally, the number of countries in debt distress has risen significantly. The EM bank/sovereign debt doom loop is still very much on the table.


Tom Pence Commentary.
We have been taking down the sails since December. Felt that inflation would be persistent, and we'd see a deceleration in growth if not necessarily a recession.
Themes:
1. We have been bullish on energy since before the Ukraine crisis on capital starvation due to ESG (Environmental, Social, and Governance).
2. We see tough comps on consumer goods but a reopening on services.
3. Conflict is driving spending in cyber and defense.
3 key issues on growth stocks:
1. COVID comparisons for businesses that benefited from stay-at-home consumers should be waning by second half 2022.
2. COVID supply chain issues are likely to be sticky.
3. Ukraine is unknown but not getting worse. But one of our biggest worries is there's likely no way around a European recession, which is obviously a key demand market for the U.S.
Reasons to be constructive:
1. Saas Valuations have likely hit a floor. EV/NTM- at 3% rates on the 10-Year Treasury, 8-10x was the floor- but now the companies are higher quality and more diversified.
2. The 10-year Treasury Yield is typically used as a discount rate. It is difficult to see that spiking further if there's a recession. If we can just hold the multiples, growth can flow through.
3. The wildcard is depleting savings. If the low end is already through their savings cushion (as Megan thinks), that's an incentive to bring people back into the labor force which brings downward pressure on wages.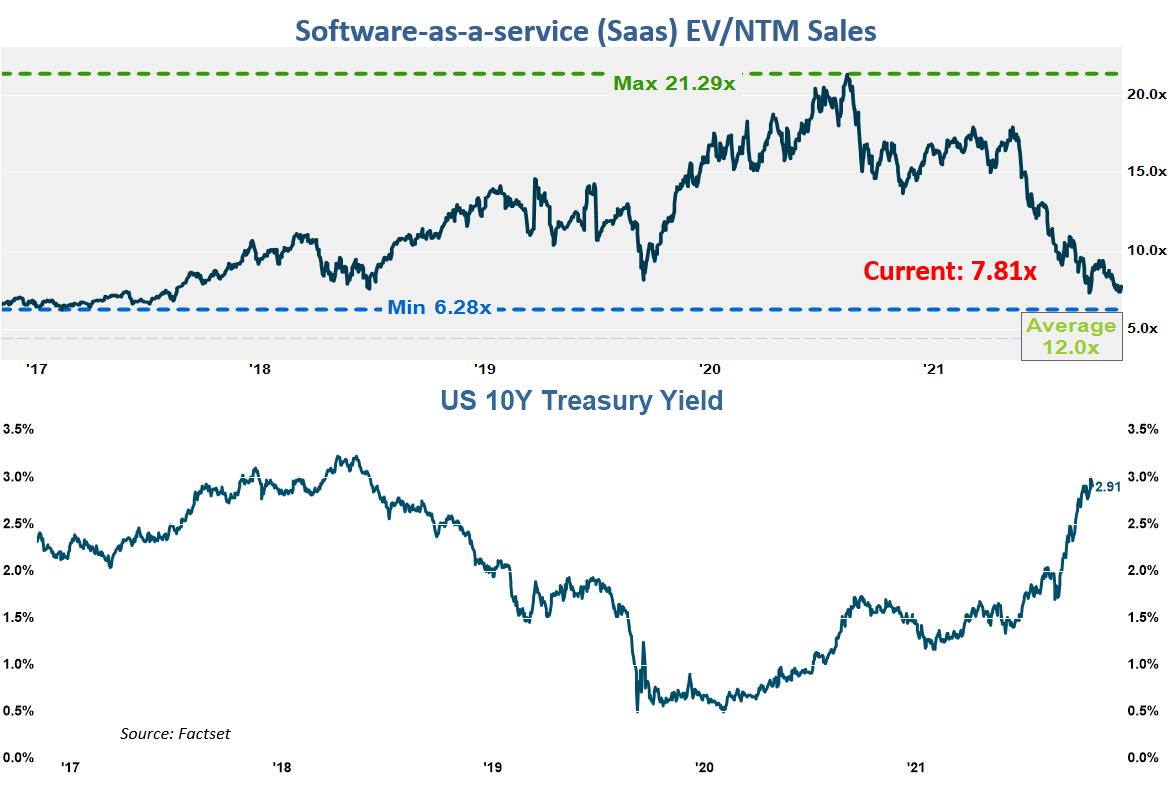 Let us know if you have any questions or comments!