Knall Cohen Pence Group Quarterly Investment Insights: "Seeing The Forest For The Trees" and "Looking Beyond Binary Outcomes."
[Full deck here]
An interesting, if anecdotal, backdrop for this piece is one of striking uncertainty. The pandemic recovery has reliably produced a series of market and macro circumstances that make it even harder to rely on any kind of historical precedent. There's therefore been a notable lack of conviction amongst the usually highly-opinionated network of thinkers we consult to help shape our investment views. This was one of the most difficult calls to prepare for that we can recall in the past seven or eight years. At no time during that period have there been so many moving parts that could literally break in so many different directions based upon unknown outcomes. It's as if the market and economic direction over the next 6-9 months is really precariously balanced on a knife-edge and unusually dependent on the cadence of events between now and the fall.
With that in mind, we have generally remained unmoved by the gyrations of the current bipolar consensus debates. We favor a nimble, probabilistic approach that can adapt to shifting shades of gray. That's why we came up with the titles of "Seeing The Forest For The Trees" and "Looking Beyond Binary Outcomes."
Key macro insights: Generally speaking, we see a hand-off from a v-shaped recovery to a more sustainable expansion. The big picture is broadly positive, with consumer and enterprise fundamentals robust across the board. Quite literally unprecedented levels of debt and direct government intervention should ensure rates remain low. As Hoisington's Lacy Hunt has emphasized, the fiscal vs monetary debate becomes entirely moot once you surpass levels of debt exceeding 130% of GDP. This is where the U.S. already is right now, even before the proposed $1 trillion and $3.5 trillion additional stimulus bills. At that point all you get is a transient demand boost that lasts for maybe one to two quarters, before you face the law of diminishing returns. Then the gargantuan mountain of debt begins to bog down the whole system.
We have found the highly counter-consensus work from both Lacy and David Rosenberg arguing against sustained inflation to be compelling, and thus far correct. Looking at the 50 basis point drop in the 30-year Treasuries from March 2021, the bond market believes inflation is transitory and not a long-term headwind to the economy. We agree. With the massive liquidity surge abating, productivity growth increasing, and an ageing population, we think inflation remains muted and thus the Federal Reserve (Fed) stays on the sidelines. Nancy Lazar at Cornerstone Macro has argued the key drivers of rates have materially shifted since the Great Recession. Aggressive Fed accommodation and ultra-low foreign interest rates have decoupled the 10-year Treasury from its traditional drivers of GDP and bills. On the latter point, we steadfastly agree that there is still a limiting tendency to look at individual countries in isolation in a world increasingly defined by global capital flows and colossal indebtedness.


Source: Hoisington
Legislative picture: Our regular collaborator, D.C. policy expert Andy LaPerriere at Cornerstone Macro (our series speaker in March) has helped us read the tea-leaves in Washington. We think a modest tax hike is likely, with drug companies at risk. We also think the big sector winners are alternative energy and infrastructure. In our opinion, the key risk to Big Tech is from higher taxes.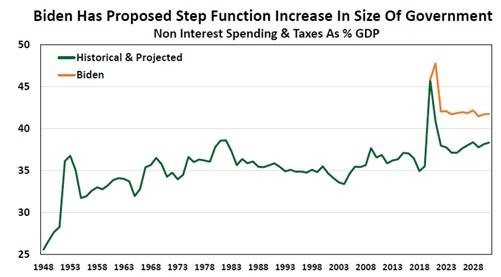 Source: Cornerstone Macro
Portfolio thoughts: From a positioning perspective, we are sticking to the barbell formula that has served us so well, but with a particularly keen eye on meaningful macro changes that may occur more rapidly than normal. In short: we believe growth companies with healthy balance sheets and profitability will remain in a league of their own. We are also focused on continued reopening winners like energy, leisure, financials, payments, luxury and gig economy plays. With interest rates remaining lower for longer, multiples could stay elevated and fundamentals to grow into these valuations. The macro setup is broadly supportive. The Fiscal Cliff and unprecedented debt levels should keep interest rates lower for longer with slowing growth and limited inflationary concerns. With cyclical valuations high, and the economy broadly decelerating, we expect those multiples to compress, and the market to hand-off to the kind of high-quality growers we favor.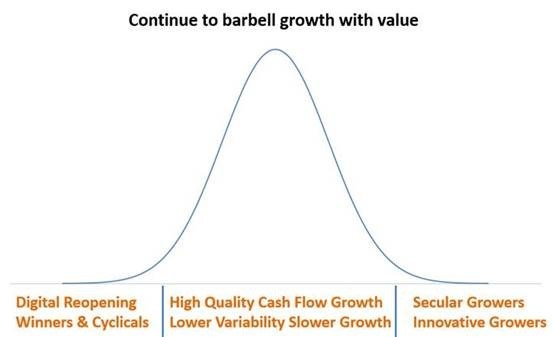 Source: The Knall/Cohen/Pence Group

Interesting investment themes: The digital economy continues to outpace overall U.S. economic growth. One of the most striking statistics was CEO Patrick Collison observing in June that more businesses had launched on his online payments company Stripe since the start of 2020 than in the rest of their prior history. There are an abundance of exciting innovations within tech. We are watching the emergence of fintech and challenger banks, as well as digital payments and "super apps." Electronic Vehicles are steadily going mainstream. A series of incredibly high profile ransomware attacks have brought cybersecurity back to the forefront. Video gaming remains a significant focus, especially as the internet giants have now started to compete to build the "metaverse" in earnest. This has been the buzzword of the last 6 months (and a topic we covered extensively back in April, and again last month).
In healthcare, COVID has spurred a quantum leap as we saw a global Manhattan Project to find a vaccine. We see specific reasons to be excited in Alzheimer's, gene editing, diabetes, and cancer/early detection.
Important investment trends to watch:
Activist Investors taking board seats. (See The Knall/Cohen/Pence Group's white paper on Sustainable Investing).
Hybrid Work Environment – with second derivative real estate implications
President Xi's new posture – Rising Tensions with China. As we discussed last week, this was remarkably well forecast by Dan Wang at Gavekal, an expert speaker we hosted back in February. The trend to watch from here is China's determination to build their own domestic hard-tech industry.
$100 crude oil? This is an obvious second derivative of the shift to renewables, exacerbated by geopolitical stances from the big fossil fuel producers and shrinking capex from energy companies themselves.
Overpriced and overhyped deals – IPOs and SPACs.
Ransomware threats.
Meme Stocks – Battle between Shorts and Retail investors. Something Tom Pence addressed in more detail in his June market thoughts.
Risks we're monitoring.
The phrase that comes to mind most frequently in this environment is "strong convictions, loosely held." The COVID Delta Variant situation obviously remains fluid and crucial. Valuations are generally high and inflation still may yet pick up faster than expected, forcing the Fed to step in. There is political and legislative risk from both an ongoing trade war with China and a significant increase in wealth taxes. We have remained steadfast in our views so far, but not to the point of stubbornness should the facts change.
Conclusion: a predominant driver of long-term stock market returns is the ability of a company to ultimately be able to generate free cash flow (FCF) and to preferably compound that FCF into the future. An economy mired in debt will have a difficult time growing >2% GDP growth. In such a scenario, quality growth stocks would likely prevail. Despite myriad unknowns, the U.S. economy remains one of the best positioned globally in terms of innovation, new business formation, access to start-up capital, regulations, rule of law, and relatively high vaccination rates.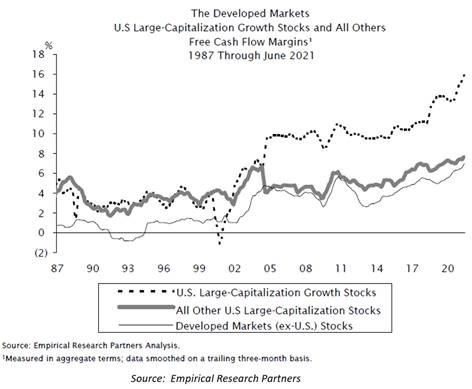 Please contact us with any questions or comments!