If the chaos of 2022 has a single over-arching theme, it's that "reality bites." It is our expectation that this will continue to be something that must be confronted by both capital markets and central banks into 2023 and beyond.
Through the course of the pandemic, policymakers seemed to ignore many lessons learned from mistakes in policy over the past 100 years and "do whatever it takes." Their aim was to save the economy, to resuscitate capital markets, to assuage the stresses of lockdowns and lost incomes, and to win the favor of voters. Only later did they realize that they were facing a historically unprecedented collapse in global demand and a literal dismantling of the global supply of labor, materials, and logistical channels. Their initial response was to create a tsunami of stimulus around the globe to reestablish demand while making the replenishment of supply a lesser priority. In retrospect, this was an enormous mistake!
Slowly at first, and then more rapidly, the economy re-opened and consumers ventured out looking to once again acquire goods and services in the physical world. We soon realized that this explosion in demand was chasing a paucity of supply. Consumers had cash to burn, but producers and service providers lacked capacity. The result was an inflation cycle the likes of which we have not seen since the 1970s. This is the reality that we are still being forced to accept 30+ months later as we come to the end of 2022.
The Federal Reserve's (Fed) belated response to all this beginning in late 2021 was to slowly signal higher rates to tamp down demand until supply came back online. But it now appears that they woefully underestimated how long that process would take. We are still dealing with stubbornly low labor force participation by prime-aged working adults. Some of this has been exacerbated by COVID-era policies such as enhanced unemployment benefits that are still in place. By choosing an overt emphasis on re-igniting demand and basically ignoring the consideration of policies that would stimulate supply, we find ourselves today with an economy that is chasing its tail. On one hand, the Fed is trying to bring demand down to balance with supply. On the other, the private sector is freezing or shrinking supply until the Fed stops trying to thwart the excessive demand surge that it created. Through the fall, we have seen announcements of firms slowing hiring, freezing wages, increasing layoffs, and withholding necessary investments in needed capacity.
To be sure, as demand continues to slow from the effect of higher rates, supply is slowing coming back into balance, and many components of inflation are beginning to show signs of deceleration. The response by markets to such developments has been mostly positive, frustrating those with more bearish views who see a severe recession ahead. For the Fed, the path ahead will require careful steps with the biggest challenge being how to sequence the removal of demand-killing rate increases and transition to supply-inducing rate cuts. The task will not be easy, but we think it could create several junctures of opportunity for our clients.
Active versus passive
It seems like every year for the past decade the investment industry has proclaimed that the coming year will witness the revival of active management. And while it's true that 2016-2019 was a period of outsize returns for active management (our strategies included), the pandemic era since 2020 has largely reversed much of those gains. It may seem to be a wildly self-serving observation, but there are good reasons to believe that this prediction may once again have merit.
Our recent expert call with strategist Russell Napier further corroborated this view. He believes passive investing is going to become an increasingly risky strategy. This is because we are entering a much more politically interventionist period now that central banks are largely hamstrung by inflation. This could be a nasty shock for passive investors.
Here at The KCP Group, we approach all our interactions with experts in the same way. We first ask what they are seeing right now, then ask what they are doing, and finally what they are expecting in future. Looking into 2023, here are our own answers.
What are we seeing right now?

There is still work to be done in containing inflation. It might be easier to see inflation drop to 4%-5% from base effects and supply issues abating, but getting to 2% is going to be challenging with a tight labor market and 5% wage growth.


The economy is less rate sensitive than prior cycles, which means the Federal Reserve is likely going to overshoot and keep rates higher for longer.


The Fed rate hikes have been the covering fire, but Quantitative Tightening will be the heavy artillery.


We believe there is still considerable risk ahead for the economy and especially company earnings.


The post COVID-19 consumer spending has depleted much of the excess savings, which means future spending will have to rely more upon debt.


There are still many exogenous risks looming.


There are several conflicting signals about the possibility of a recession.
In short, we are not out of the woods yet.
What we are doing?
As the associates at Empirical Research remind us, free cash flow metrics have the best performance of any other factor over the last 7 decades of data. As "reality bites," having cash-in-hand is priority number one. So for The KCP Group, we prioritize investing in companies that offer high quality cash flow growth. You can see this represented by our investment strategy bell-curve: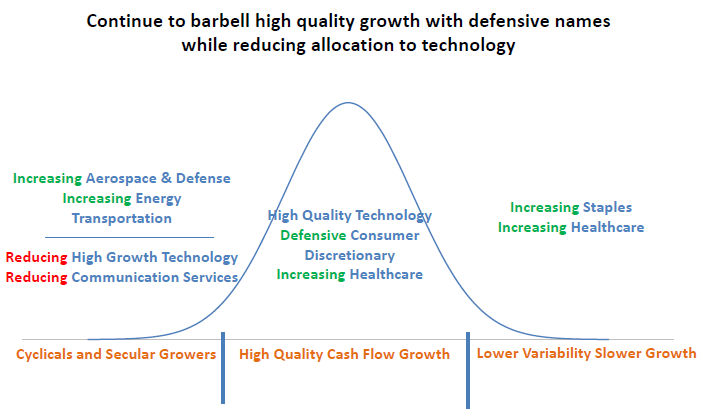 Source: The KCP Group
Our defensive stance since mid-2022 has been reflected in reducing our exposure to high-growth tech where appropriate and increasing our weighting in staples, healthcare, and early cycle cyclicals.
What are we expecting going into 2023?
We think it might be possible to characterize the period that lies ahead as the third phase of this Pandemic era. The first phase was all about policymakers stimulating and unleashing pent-up demand. With the incredibly low real rates, equity returns were plentiful from mid-2020 to mid-2021. The second phase came about as the Fed attempted first to gradually slow demand growth to allow supply to catch up, and then (in the second half of 2022) to aggressively thwart demand to contain an inflation cycle that had become more virulent than they had first imagined. This period was painful for clients invested in our internally-managed equity strategies as most of the higher quality, cash-generating growth companies that we invest in saw dramatic multiple compression as aggressive rate increases ensued.
Some of our favorite companies were caught up in the huge sell-off in the technology, communications, and consumer sectors which were among the worst performers of the year.
But our current view is that the third post-pandemic investment cycle that lies ahead will be an opportunity to invest in the resumption of investment in pent-up supply. We think this will feel more like a traditional investment cycle as it will be associated with increased investment and hiring as companies seek to "right-size" capacity and staffing to match the underlying growth in the economy since before the pandemic began. Such capex cycles have historically been good periods for both stocks and earnings and have benefitted both growth and value styles.
To be clear, the view portrayed above is not the current consensus view.
Indeed, there are many who believe that the inflation that unfolded in 2021-2022 is the result of decades of easy money (negative real rates) that finally manifested itself in the form of a secular monetary imbalance that will be with us for the next decade. There are others who believe that, because of years of frivolous spending on virtual goods and services in the tech sector, that we are now finally paying the price of under-investing in "real" goods and physical assets like steel and petrochemical plants. Lastly, the more recent prevailing thesis on inflation is that it is being driven in part by deglobalization that has accelerated since the pandemic began. The logic suggested with this view is that the West has learned the hard lessons of having supply chains distributed in the countries of less-than-friendly neighbors like China, and by bringing these jobs back closer to home, we will lose the low-cost labor arbitrage that allowed the West to import disinflation for the past 25 years.
We find flaws in each of these perspectives. Looming largely over all of them are two important realities: demographics and economic Darwinism.
First and foremost is demographics. This is not the 1970s, where we had enormous waves of baby-boomers around the world moving out of school and into the workforce, getting married, forming households, buying homes, cars, and appliances. For sure, the world back then was supply-constrained because of excessive regulation and nonsensical policies, but the big story was the massive demand surge from young people entering the workforce. Today we have just the opposite. Those baby boomers today are exiting the workforce and spending much less than they did for most of their lives. Their primary investment objective is savings and stable income. When large numbers of the population retire and save, this puts downward pressure on the price of goods and on yields.
Economic Darwinism is the term we use often when talking about the role of human nature in capitalism. A rational investor will almost always strive to invest in projects with the highest potential return on investment (ROI) and the lowest possible costs as an act of economic competition and survival. To suggest that select multinational (Western) companies would voluntarily forgo the higher margins that their competitors are able to enjoy by outsourcing to lower cost countries seems like folly to us. While it's true that China is no longer gaining in its share of global exports, this trend was underway long before the pandemic unfolded. In fact, increasing numbers of western companies have been turning to Mexico, Cambodia, and Vietnam as the next generation of outsourced manufacturing. This trend, combined with the ongoing evolution of technological advances in automation, logistics, cloud computing, and artificial intelligence (AI) will likely continue to provide inflation-reducing cost savings from globalization similar to what capital markets have been experiencing for years.
Conclusion:
Our overriding sense from the present vantage point is that the time for extreme bearishness is largely behind us. The market declines to the lows reached in June and again in October have discounted what we believe was an excessively negative view and a quite severe recession. Many of these bearish viewpoints assumed the status quo of negative events remaining through much of 2023 including the Ukraine War and ongoing China lockdowns. Given the recent news of China relaxing its COVID and travel policies, this already suggests that bearishness had reached extreme levels. One anecdote of many that caught our eye is that this is the first time in decades, possibly ever, that Wall Street strategists are predicting a down year for stocks. Instead, we think that investors should be looking ahead to a global economy that will be moving beyond the pandemic-era disruptions and moving into an investment cycle that has the potential to produce gains in active management across multiple asset classes and markets.
That said, the road ahead to the era of capex and supply replenishment will likely be a bumpy one. It may well be mid-year before the Fed has enough data to support a pause, let alone easing. Therefore, we think it makes sense to stay committed, but to stay opportunistic. Many of our clients have been taking the guidance of our fixed income team and using today's higher yields to re-introduce meaningful income to their portfolios, and we think this makes sense.
With regard to equities, in the absence of a Fed reversal/easing, companies will have to offer quality, resilience, yield, and cash flows to match the relative merits of higher-yielding fixed income opportunities. As in the past, such companies will continue to be at the center of our investment focus in our core, dividend, and growth equity strategies.
We wish you all the very best for a happy and successful new year.
Tom
Thomas Pence, CFA
Managing Director